Where to start?
Being self-driven, hardworking and willing to learn are the key ingredients to any successful business. But having a step-by-step guide on starting and the best tools required will go a long way in ensuring that you hit the ground running.
Getting started
Landmax.pro business software
We offer a Free Account for start-up letting agents, allowing you to add up to 50 properties and manage tenancies, maintenance, certificates, keys and much more.
See our pricing packages
Getting your paperwork in order
Letters, tenancy agreements and standard industry documents
Why hunt around for standard industry documentation? From the start, you can access all relevant paperwork for the letting industry, from agreements to notices. We have most covered meaning you can start that much faster. Want to make them bespoke?. We also have a very user-friendly text editor for letters, emails and SMS.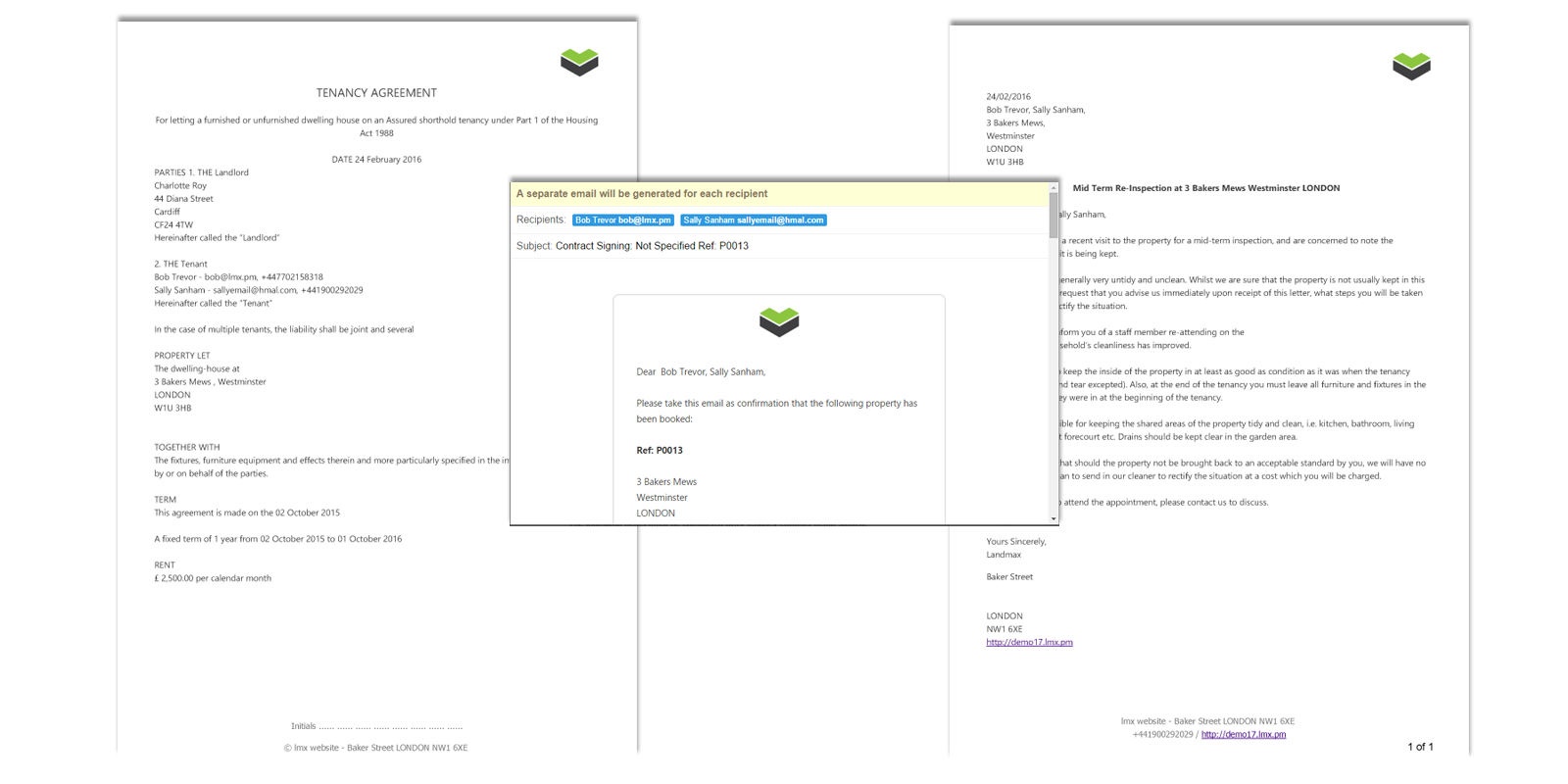 Start Advertising
Get your free LMX website design

Once you have your system in place, next is getting your online presence set up.

We offer a professional responsive design that has two-way integration built in from the get go. Your logo, property adverts, news and contact us/viewing requests are available to you without any further programming or website editing.

Why wait? Just subscribe to website management for £30 pcm and get a design deployed live within 24 hours.

Start advertising on many property portals

Advertising for a letting agent now involves pushing your property adverts to as many other websites as possible. Doing this manually, creating various profiles and manually adding adverts is a very time-consuming process; especially as you get busier, you will find less time to do this.

With a landmax.pro portal upload subscription for only £10 pcm, you will automatically have a new profile created with your logo and contact details. In addition your property data is uploaded on a daily basis and you can start advertising on many portals without a further subscription. And when you're ready you can add additional portals that require an additional subscription, like Rightmove.
Get your window displays and lists prepared
Print out your window displays and prepare your professional lists.

Building your own window displays takes time to perfect. Why waste that time? Just add the property to landmax.pro and in one click print a poster for your office window.

Photos, description, your logo, website or a QR code are all added to a window display poster in seconds.
Convert that TV into an advertising medium
Get your TV display running

Turn a basic TV with a HDMI port into a powerful visual marketing tool. With a plug and play device that updates wirelessly, you can be sure that videos, property information, and advert slides are presented professionally and give you credibility that you take your marketing seriously.

Device for TV only £30 and then £10 pcm for the TV Advertiser subscription.
Get business-grade email
Google Apps for Business

Need an affordable solution that requires minimal IT support? Then we recommend Cloud-based platforms such as Google Apps or Microsoft 365. Both platforms allow your professional emails to be linked to a company, allowing you to completely control your employee emails and domain. And since it's based in the Cloud like landmax.pro, no server or further software installation is needed.

Find out more about Google Apps
Social Media Presence
Getting online on social platforms is now an expected standard, yet from our experience this process is still carried out with many mistakes.
Facebook business page

Not a Facebook person or a group. Create an actual business page. This will allow various search algorithms to pick your profile up correctly and be better used on various platforms.

Create a business page with a vanity URL

You can then add this URL to your landmax.pro account and post to your Facebook business page in one click.

Twitter

A Twitter profile is different from Facebook - think of it as a limited space to quickly update the best parts of your business, to engage and communicate to potential clients.

Learn from your competitors. Create private Twitter lists that follow your local competitors. Target the ones you know are already successful. Learn from them to improve how to post certain content.

LinkedIn

Most likely the best kept secret for gaining new landlords. LinkedIn is a business platform where people expect various business offers from various parties. The key is in targeting and building your audience on this platform. We found it better than Facebook, as LinkedIn is generally full of professionals, thus there is probably a higher concentration of investors.

Add your email and Facebook details - try and get as many contacts on LinkedIn as possible. You will then receive suggested contacts based on your existing contact list. Try and only add contacts that relate to your industry, i.e investors, landlords etc. The algorithm behind Linkedin then creates a knock-on effect, and generates you more suggestions based in the same industry.

Tip - don't abuse adding contacts, do it slowly but regularly. If LinkedIn think you are abusing this, they will place certain contact restrictions on your account.
News, Video, Social Post Content
You have a landmax.pro website with a blog editor, you have many social profiles. Now you need good, regular content to post. But you have either a lack of time or difficulty putting effective material together.
Today there are many websites offering content creation. We won't list them all but here are a few of our favourites:
Fiverr - Get a freelancer from $5

We do not endorse the Fiverr freelancers, but with trial and error you can build up an affordable supply of good quality content. We think of it as eBay for freelance work - it can be really great but due diligence is advised.
Example Fiverr's that would save you time and get done for a few quid
- Create an agency video introduction
- Create a social post
- Create a letting agent news article
Get a FREE Fiverr on us and create marketing content that is done for you
Canva - Social Post Creator

This is a very useful tool with which you are able to create graphical posts in minutes. It removes the need for complex design and even has the creative portions set out for all types social profiles and posts.


Create your content in minutes.
Start Now
How much are my start-up costs?
If you follow our step-by-step guide, you should be able to start for almost nothing with an on-going monthly cost of £53 . This is based on a single person agency. However, note that these options are even optional and can be taken one by one. or an effective professional impact though, we suggest this as the minimal setup required:
Requirements Checklist
Signed up to landmax.pro free account
£30 pcm professional website
£10 pcm for automatic portal uploads
Printed window displays
Shop TV Display set up
£3 pppcm Google Apps Email
Created social profiles
Content for Social Posts
Other costs that you may want to consider
Once you have a good online presence and a good system to cover your business processes. You need to consider your wider real-life image. We have also added links to a suggested options based on minimal budgets, but these can vary dependant on your business requirements.
Join a membership body
Professional phone line
Office or retail location
Lettings Boards
Print Material - Business Cards.
Laptop
Digitial Camera
Start Now
Start Now
And get a successful start to your business
Watch and find out more about landmax.pro