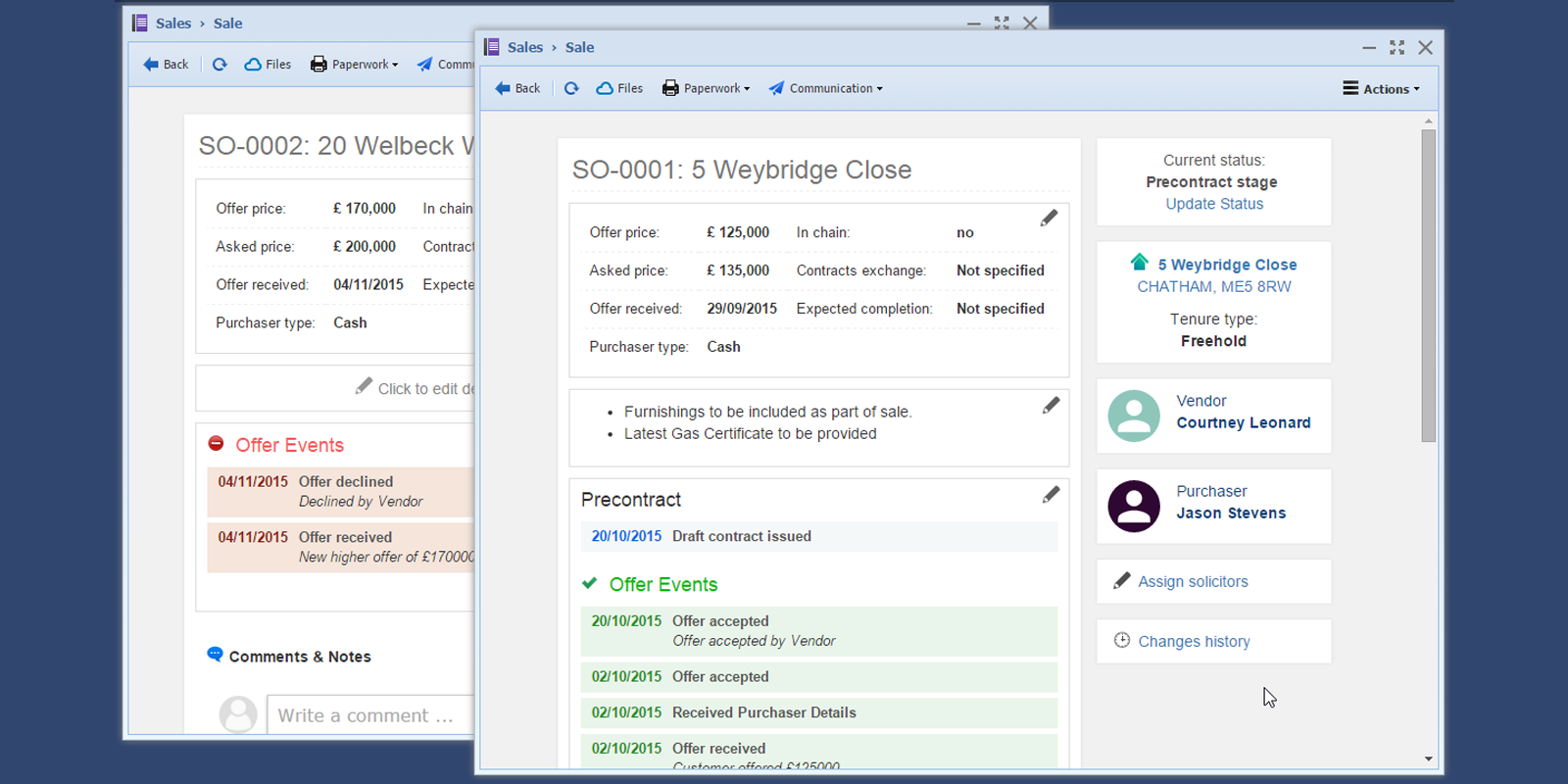 When it comes to sales, it becomes difficult to track every transaction especially in large-scale setups.
After hearing the needs and demands of our clients, we are proud to announce our newest feature: Sales and Conveyancing, that in a comprehensive solution that simplifies everything.
We have made the service to be approachable for everyone and feature-filled enough to appeal to power-users. We have covered every aspect of the process, from advertising to conveyancing, meaning that you can be on top of each and every sale.
The key to our system lies in the comprehensive data-collection mechanism that enables you to keep track of every detail about each transaction. Notes on timeline of the sale, detailed notes on each transaction, offer information, chain status and mortgage details are all supported by our system. Assigning multiple vendors, purchasers and solicitors is extremely easy and the gist of it is that you can enter as much information as you want. The system is scalable and flexible to accommodate for your needs.
The system is also dynamic with Smart Events, that keeps track of every aspect of a sale. Data on each sale is at your fingertips, and you can act on negotiations and counter-offers from a variety of sources such as e-mails, SMS and paperwork.
The typical problem with large-scale sale management is the organising, and we have fixed that with the intuitive and easy-to-read labelling system that even has an automated status feature.
You can even customise your own sales workflow, making sure what ever your processes are, that they are recorded and managed correctly.
Our Sales & Conveyancing System can help you to be efficient and one step ahead of the competition. Simple and intuitive, scalable and efficient. What more could you want? With landmax.pro, tracking and managing every sale from start to finish has never been easier.
Why not get an account and find out how easy it is to manage sales.